Hello,
I have fresh install of cyber panel and I have testing my server with two different domains. Now I noticed when I was testing HTTP/3 that my ipv6 is not connecting with QUIC.
Test that I used is https://http3check.net/
my server: turva24.org (ipv4: 65.108.15.57 ipv6: 2a01:4f9:6a:4ae8::2)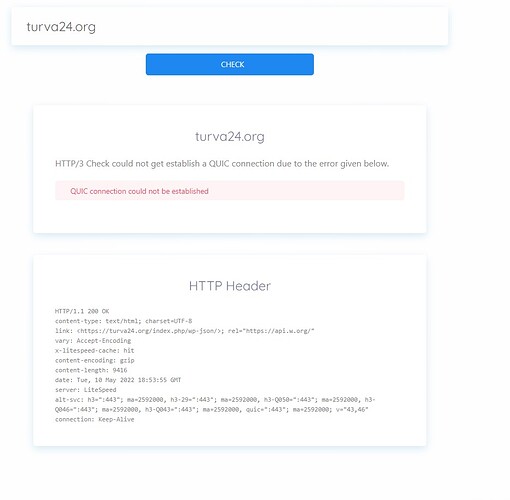 my other domain with same results: vmsstore.eu
When I select advanced and put my ipv4 address test is successful, but fails with ipv6 error: QUIC connection could not be established
Advanced tab shows right ipv6 address.
I have tried to temporarily disable all firewalls (CFS), I also have modsecurity installed. And I have opened ports for UDP 443 on both ipv6 and ipv4
Cyberpanel installation is under week old, so it is quite fresh.
Tried to search from google and forums, but didn't find anything.
I am new to cyberpanel and ipv6 is kind of new to me as well so any help is apprised.