Hi, I'm trying to login to admin@selwynsnowball.co.uk through windows mail (I have also tried outlook), however it comes up with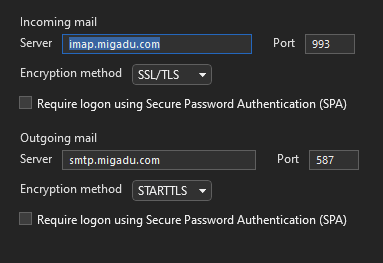 by default, and when I attempt to change it to what I think it should be ie mail.selwynsnowball.co.uk instead etc (just a default install of cyberpanel using custom nameservers in cyberpanel ie dns is configured by them) it still doesn't work.
So two problems, the default shouldn't be migadu (we used to use migadu on this domain) and I can't get it to work when typing in other details. The email works from the web panel.