How do I install Bcmath PHP Extension on Cyberpanel please?
Welcome @Ush4teez Happy you are here
Go to https://SERVER_URL:8090/managephp/installExtensions and install any extensions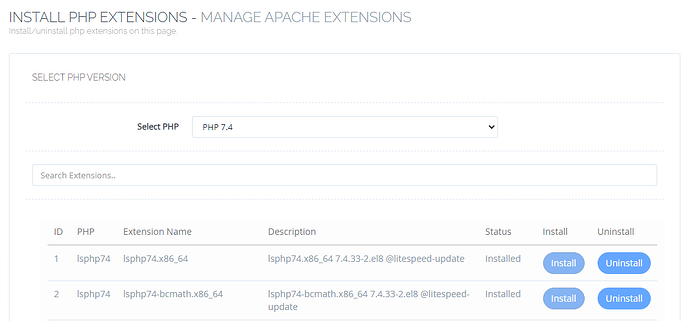 lsphp81-bcmath extension is not found, please how can I fix this?
Install using (for Ubuntu or AlmaLinux)
$ dnf install lsphp81-bcmath || sudo apt install lsphp81-bcmath

Thanks, I already tried that, I keep getting 'Unable to locate package lsphp81-bcmath'. Any other way to fix it please?
Kindly follow basic instructions here How to ask for assistance?
Details about os version and cyberpanel version would really help
it is straightforward to install, but you must understand that if you're using Apache as a reverse proxy, install it from Manage Apache Extensions by selecting your required PHP version. (refer screenshot shared by @josephgodwinke )