I configured the mail system with the VPS mail server and now i am accessing and sending the email using snappymail but I cannot send or receive the email. I am getting this error each time " Cannot send the email".
Are the ports blocked to send or receive the mail?
Can anyone explain to me why it happened and what is the solution to it?
Thanks and waiting for a solution.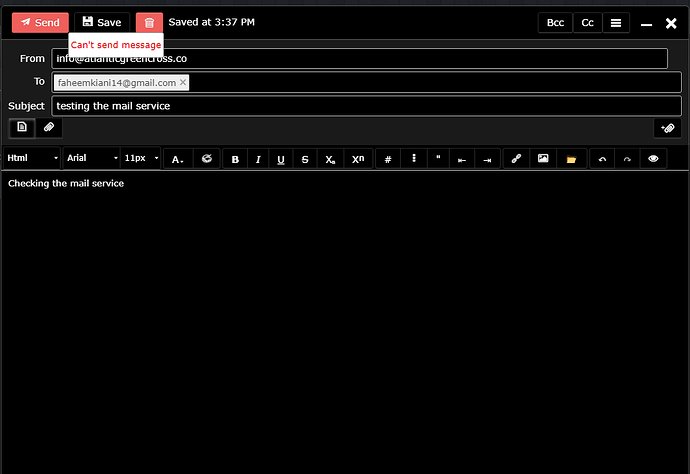 Here is DNS setting for mail using Cloudflare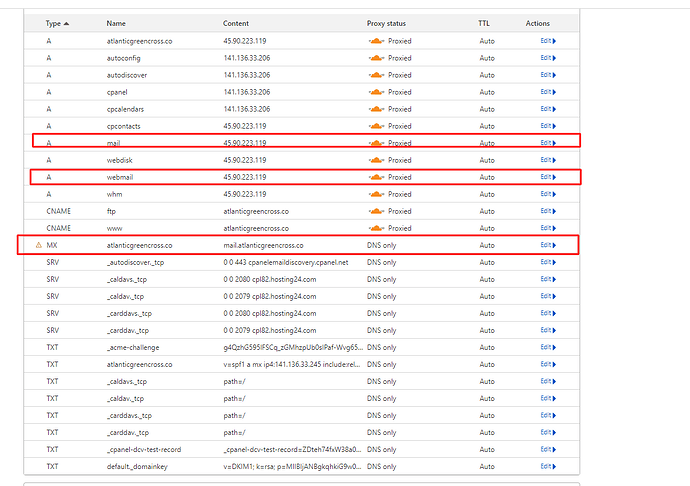 Email log is here:
Jun  1 10:36:05 atlanticgreencross dovecot: imap([email protected])<832149><dGHiAA/9OqkAAAAAAAAAAAAAAAAAAAAB>: Disconnected: Logged out in=91 out=635 deleted=0 expunged=0 trashed=0 hdr_count=0 hdr_bytes=0 body_count=0 body_bytes=0
Jun  1 10:36:24 atlanticgreencross dovecot: imap-login: Login: user=<[email protected]>, method=PLAIN, rip=::1, lip=::1, mpid=832165, TLS, session=<u7kOAg/9bK8AAAAAAAAAAAAAAAAAAAAB>
Jun  1 10:36:24 atlanticgreencross dovecot: imap([email protected])<832165><u7kOAg/9bK8AAAAAAAAAAAAAAAAAAAAB>: Disconnected: Logged out in=2626 out=579 deleted=0 expunged=0 trashed=0 hdr_count=0 hdr_bytes=0 body_count=0 body_bytes=0
Jun  1 10:36:25 atlanticgreencross dovecot: imap-login: Login: user=<[email protected]>, method=PLAIN, rip=::1, lip=::1, mpid=832167, TLS, session=<gykaAg/9oK8AAAAAAAAAAAAAAAAAAAAB>
Jun  1 10:36:25 atlanticgreencross dovecot: imap([email protected])<832167><gykaAg/9oK8AAAAAAAAAAAAAAAAAAAAB>: Disconnected: Logged out in=91 out=643 deleted=0 expunged=0 trashed=0 hdr_count=0 hdr_bytes=0 body_count=0 body_bytes=0
Jun  1 10:36:26 atlanticgreencross dovecot: imap-login: Login: user=<[email protected]>, method=PLAIN, rip=::1, lip=::1, mpid=832169, TLS, session=<oacxAg/9+K8AAAAAAAAAAAAAAAAAAAAB>
Jun  1 10:36:26 atlanticgreencross dovecot: imap([email protected])<832169><oacxAg/9+K8AAAAAAAAAAAAAAAAAAAAB>: Disconnected: Logged out in=904 out=579 deleted=0 expunged=0 trashed=0 hdr_count=0 hdr_bytes=0 body_count=0 body_bytes=0
Jun  1 10:36:27 atlanticgreencross dovecot: imap-login: Login: user=<[email protected]>, method=PLAIN, rip=::1, lip=::1, mpid=832171, TLS, session=<kJU6Ag/9oLAAAAAAAAAAAAAAAAAAAAAB>
Jun  1 10:36:27 atlanticgreencross dovecot: imap([email protected])<832171><kJU6Ag/9oLAAAAAAAAAAAAAAAAAAAAAB>: Disconnected: Logged out in=91 out=643 deleted=0 expunged=0 trashed=0 hdr_count=0 hdr_bytes=0 body_count=0 body_bytes=0
Jun  1 10:36:59 atlanticgreencross dovecot: imap-login: Login: user=<[email protected]>, method=PLAIN, rip=::1, lip=::1, mpid=832177, TLS, session=<YaIgBA/9VLoAAAAAAAAAAAAAAAAAAAAB>
Jun  1 10:36:59 atlanticgreencross dovecot: imap([email protected])<832177><YaIgBA/9VLoAAAAAAAAAAAAAAAAAAAAB>: Disconnected: Logged out in=2869 out=1036 deleted=1 expunged=1 trashed=0 hdr_count=0 hdr_bytes=0 body_count=0 body_bytes=0
Jun  1 10:37:00 atlanticgreencross dovecot: imap-login: Login: user=<[email protected]>, method=PLAIN, rip=::1, lip=::1, mpid=832179, TLS, session=</I4pBA/9groAAAAAAAAAAAAAAAAAAAAB>
Jun  1 10:37:00 atlanticgreencross dovecot: imap([email protected])<832179></I4pBA/9groAAAAAAAAAAAAAAAAAAAAB>: Disconnected: Logged out in=91 out=636 deleted=0 expunged=0 trashed=0 hdr_count=0 hdr_bytes=0 body_count=0 body_bytes=0
Jun  1 10:37:03 atlanticgreencross dovecot: imap-login: Login: user=<[email protected]>, method=PLAIN, rip=::1, lip=::1, mpid=832181, TLS, session=<AMZiBA/9oLsAAAAAAAAAAAAAAAAAAAAB>
Jun  1 10:37:03 atlanticgreencross dovecot: imap([email protected])<832181><AMZiBA/9oLsAAAAAAAAAAAAAAAAAAAAB>: Disconnected: Logged out in=2869 out=1025 deleted=1 expunged=1 trashed=0 hdr_count=0 hdr_bytes=0 body_count=0 body_bytes=0
Jun  1 10:37:04 atlanticgreencross dovecot: imap-login: Login: user=<[email protected]>, method=PLAIN, rip=::1, lip=::1, mpid=832183, TLS, session=<KYNtBA/9xrsAAAAAAAAAAAAAAAAAAAAB>
Jun  1 10:37:04 atlanticgreencross dovecot: imap([email protected])<832183><KYNtBA/9xrsAAAAAAAAAAAAAAAAAAAAB>: Disconnected: Logged out in=91 out=636 deleted=0 expunged=0 trashed=0 hdr_count=0 hdr_bytes=0 body_count=0 body_bytes=0
Jun  1 10:37:28 atlanticgreencross dovecot: imap-login: Login: user=<[email protected]>, method=PLAIN, rip=::1, lip=::1, mpid=832200, TLS, session=<WBbdBQ/9+MEAAAAAAAAAAAAAAAAAAAAB>
Jun  1 10:37:28 atlanticgreencross dovecot: imap([email protected])<832200><WBbdBQ/9+MEAAAAAAAAAAAAAAAAAAAAB>: Disconnected: Logged out in=997 out=1025 deleted=1 expunged=1 trashed=0 hdr_count=0 hdr_bytes=0 body_count=0 body_bytes=0
Jun  1 10:37:29 atlanticgreencross dovecot: imap-login: Login: user=<[email protected]>, method=PLAIN, rip=::1, lip=::1, mpid=832202, TLS, session=<LBjmBQ/9DsIAAAAAAAAAAAAAAAAAAAAB>
Jun  1 10:37:29 atlanticgreencross dovecot: imap([email protected])<832202><LBjmBQ/9DsIAAAAAAAAAAAAAAAAAAAAB>: Disconnected: Logged out in=91 out=636 deleted=0 expunged=0 trashed=0 hdr_count=0 hdr_bytes=0 body_count=0 body_bytes=0
Jun  1 10:38:09 atlanticgreencross dovecot: imap-login: Login: user=<[email protected]>, method=PLAIN, rip=::1, lip=::1, mpid=832209, TLS, session=<WvJPCA/9MM0AAAAAAAAAAAAAAAAAAAAB>
Jun  1 10:38:09 atlanticgreencross dovecot: imap([email protected])<832209><WvJPCA/9MM0AAAAAAAAAAAAAAAAAAAAB>: Disconnected: Logged out in=734 out=8838 deleted=0 expunged=0 trashed=0 hdr_count=4 hdr_bytes=4315 body_count=0 body_bytes=0
Jun  1 10:38:27 atlanticgreencross dovecot: imap-login: Login: user=<[email protected]>, method=PLAIN, rip=::1, lip=::1, mpid=832223, TLS, session=<vWRgCQ/9dNAAAAAAAAAAAAAAAAAAAAAB>
Jun  1 10:38:27 atlanticgreencross dovecot: imap([email protected])<832223><vWRgCQ/9dNAAAAAAAAAAAAAAAAAAAAAB>: Disconnected: Logged out in=997 out=1025 deleted=1 expunged=1 trashed=0 hdr_count=0 hdr_bytes=0 body_count=0 body_bytes=0
Jun  1 10:38:28 atlanticgreencross dovecot: imap-login: Login: user=<[email protected]>, method=PLAIN, rip=::1, lip=::1, mpid=832225, TLS, session=<sk9pCQ/9ntAAAAAAAAAAAAAAAAAAAAAB>
Jun  1 10:38:28 atlanticgreencross dovecot: imap([email protected])<832225><sk9pCQ/9ntAAAAAAAAAAAAAAAAAAAAAB>: Disconnected: Logged out in=91 out=644 deleted=0 expunged=0 trashed=0 hdr_count=0 hdr_bytes=0 body_count=0 body_bytes=0
Jun  1 10:38:34 atlanticgreencross dovecot: imap-login: Login: user=<[email protected]>, method=PLAIN, rip=::1, lip=::1, mpid=832229, TLS, session=<bubGCQ/9kNEAAAAAAAAAAAAAAAAAAAAB>
Jun  1 10:38:34 atlanticgreencross dovecot: imap([email protected])<832229><bubGCQ/9kNEAAAAAAAAAAAAAAAAAAAAB>: Disconnected: Logged out in=297 out=2018 deleted=0 expunged=0 trashed=0 hdr_count=0 hdr_bytes=0 body_count=0 body_bytes=0
Jun  1 10:38:34 atlanticgreencross dovecot: imap-login: Login: user=<[email protected]>, method=PLAIN, rip=::1, lip=::1, mpid=832231, TLS, session=<6DLRCQ/9rtEAAAAAAAAAAAAAAAAAAAAB>
Jun  1 10:38:34 atlanticgreencross dovecot: imap([email protected])<832231><6DLRCQ/9rtEAAAAAAAAAAAAAAAAAAAAB>: Disconnected: Logged out in=779 out=6693 deleted=0 expunged=0 trashed=0 hdr_count=3 hdr_bytes=2923 body_count=0 body_bytes=0
Jun  1 10:38:42 atlanticgreencross dovecot: imap-login: Login: user=<[email protected]>, method=PLAIN, rip=::1, lip=::1, mpid=832234, TLS, session=<4L5DCg/9EtMAAAAAAAAAAAAAAAAAAAAB>
Jun  1 10:38:42 atlanticgreencross dovecot: imap([email protected])<832234><4L5DCg/9EtMAAAAAAAAAAAAAAAAAAAAB>: Disconnected: Logged out in=820 out=9803 deleted=0 expunged=0 trashed=0 hdr_count=7 hdr_bytes=2702 body_count=0 body_bytes=0
Jun  1 10:38:47 atlanticgreencross dovecot: imap-login: Login: user=<[email protected]>, method=PLAIN, rip=::1, lip=::1, mpid=832236, TLS, session=<T2GOCg/9vtMAAAAAAAAAAAAAAAAAAAAB>
Jun  1 10:38:47 atlanticgreencross dovecot: imap([email protected])<832236><T2GOCg/9vtMAAAAAAAAAAAAAAAAAAAAB>: Disconnected: Logged out in=617 out=4151 deleted=0 expunged=0 trashed=0 hdr_count=1 hdr_bytes=587 body_count=2 body_bytes=1804
Jun  1 10:39:03 atlanticgreencross dovecot: imap-login: Login: user=<[email protected]>, method=PLAIN, rip=::1, lip=::1, mpid=832295, TLS, session=<2p2JCw/9DNcAAAAAAAAAAAAAAAAAAAAB>
Jun  1 10:39:03 atlanticgreencross dovecot: imap([email protected])<832295><2p2JCw/9DNcAAAAAAAAAAAAAAAAAAAAB>: Disconnected: Logged out in=732 out=6648 deleted=0 expunged=0 trashed=0 hdr_count=3 hdr_bytes=2923 body_count=0 body_bytes=0
Jun  1 10:39:17 atlanticgreencross dovecot: imap-login: Login: user=<[email protected]>, method=PLAIN, rip=::1, lip=::1, mpid=832339, TLS, session=<TshUDA/9OtsAAAAAAAAAAAAAAAAAAAAB>
Jun  1 10:39:17 atlanticgreencross postfix/submission/smtpd[832340]: error: open database /etc/postfix/vmail_ssl.map.db: No such file or directory
Jun  1 10:39:17 atlanticgreencross postfix/submission/smtpd[832340]: connect from localhost[::1]
Jun  1 10:39:17 atlanticgreencross postfix/submission/smtpd[832340]: warning: hash:/etc/postfix/vmail_ssl.map is unavailable. open database /etc/postfix/vmail_ssl.map.db: No such file or directory
Jun  1 10:39:17 atlanticgreencross postfix/submission/smtpd[832340]: warning: hash:/etc/postfix/vmail_ssl.map lookup error for "localhost"
Jun  1 10:39:17 atlanticgreencross postfix/submission/smtpd[832340]: warning: tls_server_sni_maps: localhost map lookup problem
Jun  1 10:39:17 atlanticgreencross postfix/submission/smtpd[832340]: SSL_accept error from localhost[::1]: -1
Jun  1 10:39:17 atlanticgreencross postfix/submission/smtpd[832340]: warning: TLS library problem: error:1422E0EA:SSL routines:final_server_name:callback failed:ssl/statem/extensions.c:1012:
Jun  1 10:39:17 atlanticgreencross postfix/submission/smtpd[832340]: lost connection after STARTTLS from localhost[::1]
Jun  1 10:39:17 atlanticgreencross postfix/submission/smtpd[832340]: disconnect from localhost[::1] ehlo=1 starttls=0/1 commands=1/2
Jun  1 10:39:17 atlanticgreencross dovecot: imap([email protected])<832339><TshUDA/9OtsAAAAAAAAAAAAAAAAAAAAB>: Disconnected: Logged out in=11 out=491 deleted=0 expunged=0 trashed=0 hdr_count=0 hdr_bytes=0 body_count=0 body_bytes=0
Jun  1 10:39:17 atlanticgreencross dovecot: imap-login: Login: user=<[email protected]>, method=PLAIN, rip=::1, lip=::1, mpid=832344, TLS, session=<NNtfDA/9ftsAAAAAAAAAAAAAAAAAAAAB>
Jun  1 10:39:17 atlanticgreencross dovecot: imap([email protected])<832344><NNtfDA/9ftsAAAAAAAAAAAAAAAAAAAAB>: Disconnected: Logged out in=649 out=9188 deleted=0 expunged=0 trashed=0 hdr_count=7 hdr_bytes=2702 body_count=0 body_bytes=0